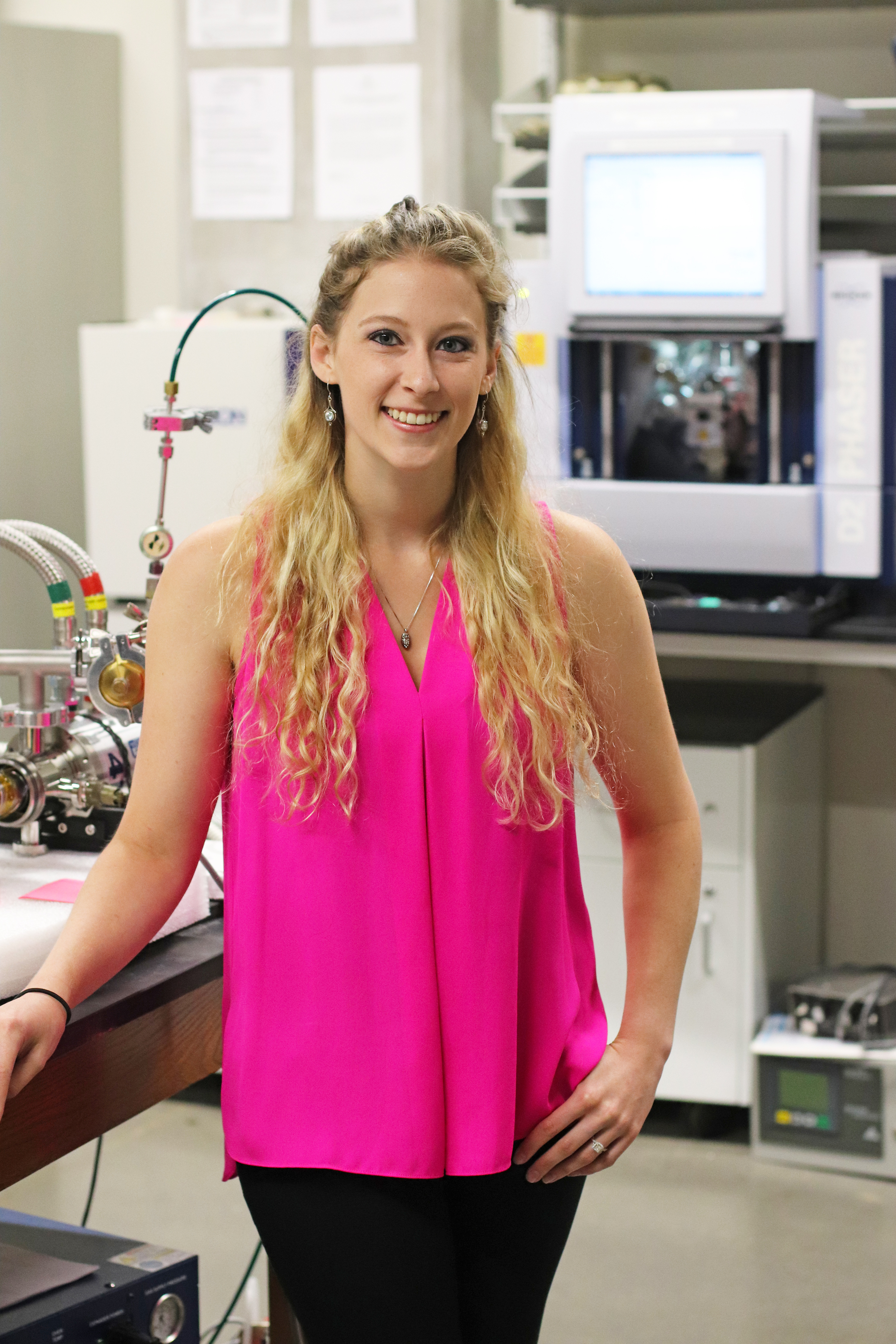 Brianna Musicó is a fourth year graduate student in the Materials Science and Engineering (MSE) Department at the University of Tennessee, Knoxville (UTK). Ms. Musicó received her B.S. degree in Materials Science and Engineering from the University of Tennessee in August of 2016 and her M.S. in MSE in 2018. She is a graduate teaching assistant for the undergraduate-level Principles of Materials Laboratory courses. As someone who enjoys outreach, organization involvement and making others aware of what materials science has to offer, Ms. Musicó has served as a mentor for high school students during the annual Summer Materials Camp as well as a teaching assistant for the 2016, 2017, 2018 and 2019 Governor's School for The Sciences and Engineering where she teaches a ceramic processing laboratory and introduces various materials topics. Ms. Musicó served as the 2017-2018 Vice President and 2018-2019 President for the UTK chapter of the Materials Research Society.
She joined the Mandrus/Keppens group in July of 2017. Her current work is under the direction of Dr. Veerle Keppens focusing on High Entropy Oxide (HEO) ceramic synthesis, structure and magnetic properties, specifically with perovskite and spinel systems. She also works with elastic moduli property determination through Resonant Ultrasound Spectroscopy.
Brianna graduated in Spring of 2021. Congratulations Brianna!
Publications:
Sharma, Y., Musico, B. L., Gao, X., Hua, C., May, A. F., Herklotz, A., Rastogi, A., Mandrus, D., Yan, J., Lee, H. N., Chisholm, M. F., Keppens, V., and Ward, T. Z. "Single-Crystal High Entropy Perovskite Oxide Epitaxial Films" Physical Review Materials 2, no. 6 (2018): 060404. doi:10.1103/PhysRevMaterials.2.060404, Available at https://link.aps.org/doi/10.1103/PhysRevMaterials.2.060404
Ye, Y. X., Musico, B. L., Lu, Z. Z., Xu, L. B., Lei, Z. F., Keppens, V., … Nieh, T. G. "Evaluating elastic properties of a body-centered cubic NbHfZrTi high-entropy alloy – A direct comparison between experiments and ab initio calculations" Intermetallics, 109 (2019), 167–173. doi:10.1016/j.intermet.2019.04.003, Available at https://linkinghub.elsevier.com/retrieve/pii/S0966979518311245
Musicó, B. , Wright, Q., Ward, T.Z., Grutter, A., Arenholz, E., Gilbert, D., Mandrus, D., Keppens, V. "Tunable magnetic ordering through cation selection in entropic spinel oxides". Phys. Rev. Mater. 104416(2019), 1–10 .
doi:10.1103/PhysRevMaterials.3.104416, Available at: https://link.aps.org/doi/10.1103/PhysRevMaterials.3.104416
Sharma, Y. Zheng, Q., Mazza, A., Skoropata, E., Heitmann, T., Gai, Z., Musico, B., Miceli, P. F., Sales, B., Keppens, V.,  Brahlek, M., Ward, T.Z. "Magnetic anisotropy in single crystal high entropy perovskite oxide            La(Cr0.2Mn0.2Fe0.2Co0.2Ni0.2)O3 films". Phys. Rev. Mater., 4, 014404 (2020).
doi:10.1103/PhysRevMaterials.4.014404, Available at: https://journals.aps.org/prmaterials/abstract/10.1103/PhysRevMaterials.4.014404