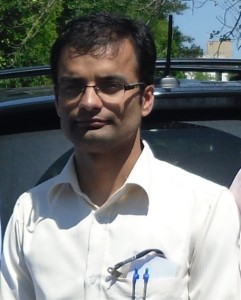 Ganesh received his M.Sc from Thribhuvan University and MS from University of Memphis, Memphis, Tennessee. He worked on "synthesis and characterization of intermetallic compounds" on his MS thesis at The University of Memphis. Currently, he is working as a research assistant in prof. Mandrus's lab.
He was awarded by colloquium award 2015 by the department of Physics and Astronomy, University of Tennessee, Knoxville. He is interested on the synthesis and characterization of new magnetic materials specially focusing on neutron scattering techniques. He has grown 3D single crystals many chalcogenide spinels like FeCr2S4, ZnCr2Se4, LiGaCr4S8, GeV4S8, GaV4S8, CuV2S4 etc.
Publications:
G Pokharel, AF May, DS Parker, S Calder, G Ehlers, A Huq, SAJ Kimber, H Suriya Arachchige, L Poudel, MA McGuire, D Mandrus, AD Christianson "Negative thermal expansion and magnetoelastic coupling in the breathing pyrochlore lattice material LiGaCr4S8".
G Pokharel, KS Syed Ali, SR Mishra "Structural, magnetic and Mossbauer studies of Ti doped Gd2Fe(17-x)Tix and Gd2Fe16Ga(1-x)Tix ".
 Matthew T Warren,G Pokharel, Andrew D Christianson, David Mandrus, R Valdés Aguilar "Terahertz dielectric analysis and spin-phonon coupling in multiferroic GeV4S8".
 G Pokharel, H Suriya Arachchige, T. J. Williams, J. A. M. Paddison, A. F. May, S Calder, G Ehlers, G. Sala, T. Hong, R. S. Fishman, D Mandrus, A. D. Christianson "Cluster frustration in the breathing pyrochlore magnet LiGaCr$_4$S$_8$" submitted.
 E. M. Clements, R. Das, G. Pokharel, M. H. Phan, A. D. Christianson, D. Mandrus, J. C. Prestigiacomo, M. S. Osofsky, H. Srikanth "Robust cycloid crossover driven by anisotropy in the skyrmion host GaV4S8" submitted.
 R. Mukherjee, N. Combs, M.R. Koehler, G. Pokharel, D. Mandrus, "Electrical, thermal and elastic properties of organic-inorganic lead bromide perovskites" submitted.